Package: 2500*1200*1480mm, total 4.5m³, Gross weight: 650kg, Net Weight: 500kg
I. Application:
Emergency Department, General Surgery, Spine Surgery, Orthopedics, Urology,
Gynecology,Trauma, Pain Managerment, Plastic Surgery, Operating Room etc.
II. Configuration:
| | | |
| --- | --- | --- |
| 1 | C-arm new design mainframe | 1 set |
| 2 | Combined high-frequency high-voltage X-ray generator monoblock (5.0kW, 110 kHz,40-120kV) | 1 set |
| 3 | Thales Imported 9*9 inch Dynamic flat panel detector | 1 set |
| 4 | Medical using ultra-low illumination digital radiography | 1 set |
| 5 | Digital acquisition workstation software | 1 set |
| 6 | Imported dense grain grid | 1 set |
| 7 | Electrical adjustable beam (collimator) | 1 set |
| 8 | 19 inch IM medical LCD monochrome monitor | 3 sets |
| 9 | Unique hand-held controller | 1 set |
| 10 | Footbrake exposure | 1 set |
III.Advantages: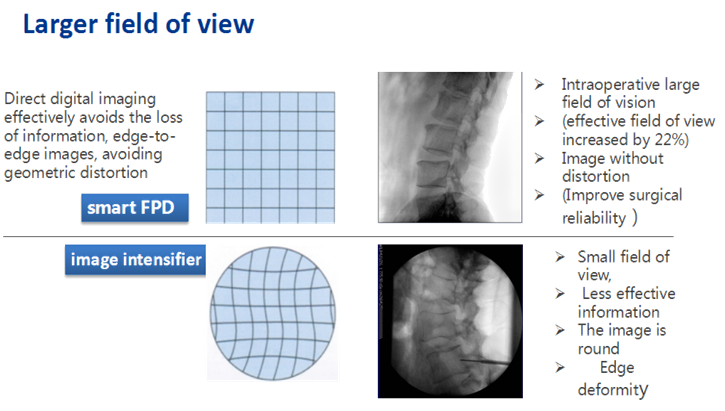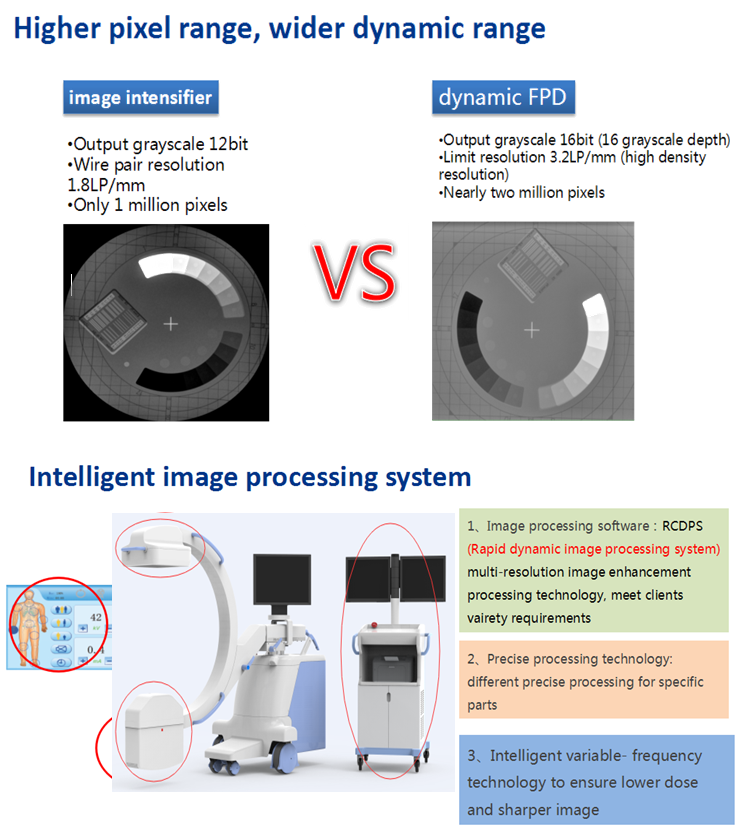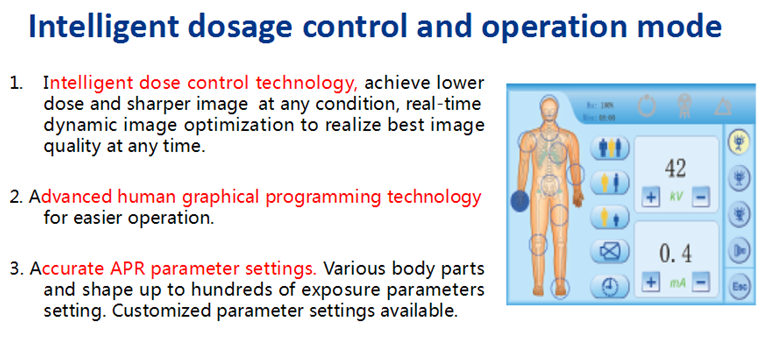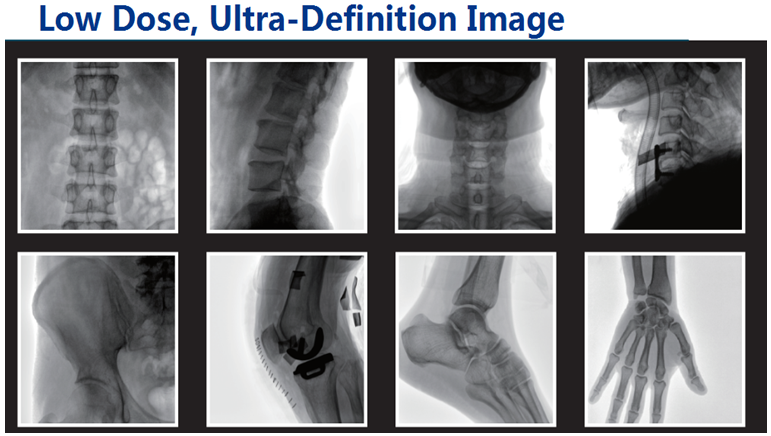 IV,Technical specification:
Category

Items

Content

Generator

Power supply

High frequency inverter

Power output: 5.0kW

Main inverter frequency: 110 kHz

Automatic fluoroscopy

tube voltage 40 kv~120kv,adjust automatically

tube current : 0.3mA~~4mA adjust automatically

Manual fluoroscopy

tube voltage 40 kv~120kv, continuous

tube current : 0.3mA~~4mA continuous

Pulse fluoroscopy

tube voltage 40 kv~120kv, continuous

tube current : 0.3mA~~30mA continuous

Photography tube voltage, mA

40KV~120KV, 25mA~100mA, 1.0mAs~280mAs

X-ray tube

X-ray tube special for high frequency

Dual focus:0.3/1.5mm

thermal capacity: 650kJ (867kHu)

Imaging

system

Detector

Monitor

19"medical LCD monochrome display *3 sets

Workstation software

Image W/L adjust, grayscale conversion, interest area balance, turn, noise reduction, enhancement, smoothing, sharpening, compression, zoom, measure, mark, print layout, Dicom image sending, Dicom image print and movie playback, etc.

Structure and performance

Direction wheel and main wheel

Direction wheel can rotate in any direction, and main wheel can rotate in ±90°.

C-arm movement

The up and down(motorized): 400mm.

Forward and backward movement: 200mm; Revolution around horizontal axis : ±180°; Revolution around vertical axis: ±15°,

Distance from focus to screen: 1000 mm;

C-arm open distance: 800mm

C-arm arc depth: 660mm;

Slipping on orbit : 135°
V.Features:
1、With a compact appearance,light design, easy to operate
2、Unique base electric auxiliary support arm design, it's more security for using.
3、A unique hand-held controller design, convenient to operate working mode.
4、With a high-quality knockdown X-ray generator to reduce radiation.
5、With the Perspective KV,MA automatically track fluoroscopy to make the image brightness and clearness optimum
6、imported FPD 9*9inch acquisition,ensure sharp image .
7、Workstation:
Registration: registration, medical records, Worklist
Collection: Start collection; prepare video, reset, horizontal mirror, vertical mirror, window adjustment, magnifying glass, negative image
Open silhouette, edge enhancement, recursive noise reduction
Processing; four windows, nine windows, sharpening, horizontal mirror, vertical mirror, text annotation, length measurement
Paper Report: save, preview, expert annotation.
Dicom features: Dicom browsing, web service , Dicom3.0 interface to connect with PACS, OR HIS SYSTEM, and dry film printer
8、Automatic dynamic motion detection when fluoroscopy to avoid movement-related blurring, no silhouette.
9、Human graphic interface on workstation for select different body parts ;like children, or adult, lateral or formal standing to do exposure.
10、3 sets synchronous monitors to help doctor have a great observing experience.
11、Error Code alarming for overloading of current, kv, or power and any problems.
12、Equipped with emergency stop button to suddenly failure or wrong operation.